Outdated browser. For a better user experience, please update your browser.
As ADPO, it is our aim that all our operations and business practices are grounded in sustainability principles.
Sustainability
It is our ambition to be front runner in the chemical logistic sector to contribute to the climate challenge by de-carbonising your supply chain, using clean energy to minimize CO2 emissions and comply with the recognized international social and environmental standards (SDG's).
We de-carbonize our customer's supply chain!
Filip De Dijcker
- Managing Director ADPO
CNG/LNG
The LNG Blue Corridors project aim is to establish LNG as a real alternative for medium and long distance transport, first as a complementary fuel and later as an adequate substitute for diesel. ADPO opened in 2014, supported by the European Commission and operated by Total Energies, the first LNG/CNG fuel station in Belgium. ADPO's transport company AFC operates a green transport fleet of dual fuel trucks that are powered by diesel and LNG, 100% LNG trucks and a large fleet of CNG vans. We will further invest in gas fueled vehicles to draft the path towards a climate-neutral European road transport system and will contribute to the acceleration of the necessary transition.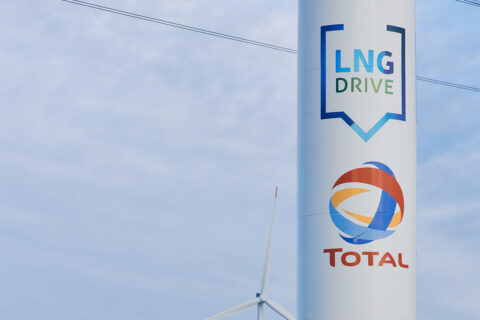 How do we bring sustainability in practice?
You can plant a tree in front of your terminal as say 'we offer green logistics'... But that would be too easy for ADPO that is a sustainable logistic trendsetter in the Antwerp Port with: solar panels, solar mirrors, LNG/CNG fuel, vapor incinerator, barge handling container quay, Marco Polo rail loading station, pipeline connections, think tank programs with our customers to sustainabilize their equipment and their supply chain,..
"If you want to begin to reduce your environmental footprint, the quickest way to start is to find those suppliers who've already reduced theirs"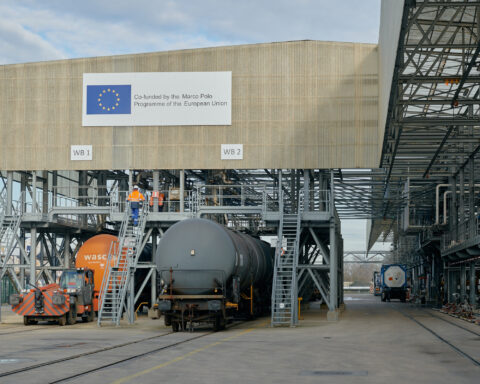 Solar
Beside 4.000 classic solar photovoltaic solar panels that produce 10% of our yearly electricity consumption ADPO cooperated with Azteq for the construction in a CST (Concentrated Solar Thermal) energy platform. The construction and installation of this CST Platform of 1100 m² of solar water heaters delivers around 500MHWh of thermal heat in the form of steam at 10 bar pressure and will continue to do so for the next 20 years, without emissions. We can state that our customer storage tanks and iso tanks are heated with pure and emission free solar energy!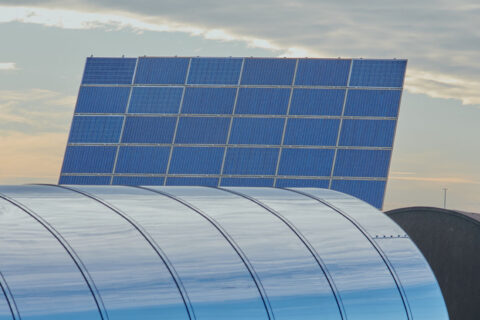 Electric cars and bikes
All our company cars are hybrid cars or full electric cars. ADPO has for many years a bike leasing program and promotes classic bikes and electric bikes as the ideal means of transport for the work-home transfers. We use electric fork lifts where possible. And our advantage is off course that all this electric equipment is powered by own produced green solar energy.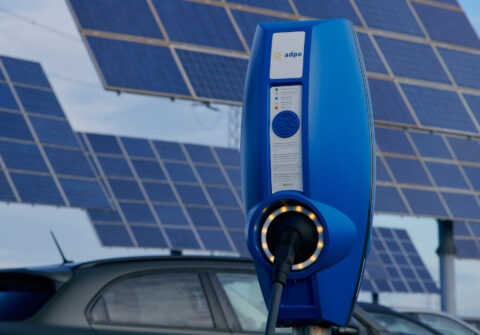 Energy transition
The energy transition is a pathway toward transformation of the global energy sector from fossil-based to zero-carbon by the second half of this century. The energy transition is a crucial enabler of sustainable development and climate resilience. Forward-looking actions will create new jobs, stimulate growth and harvest social and health benefits. ADPO's answer on this energy transition is fe. the construction and installation of this Concentrated Solar Thermal (CST) platform of 1100 m² of solar mirrors that produces approx. 500MHWh of thermal energy and converts water directly into 10 bar steam that is further reduced to 4 bar process steam that is further used on the terminal. This installation will produce this energy for the next 20 years, without emissions.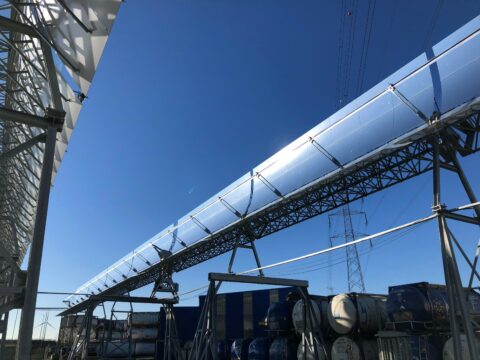 Future
ADPO is evaluating the feasibility for building a wind mill (3MW) as well studying the production (via PV panels/electrolyser) and the use of hydrogen.
ADPO has the aim to facilitate the energy transition by storing and distributing green hydrogen carriers.
ADPO will contribute to the circular economy by collecting, storing and distributing waste streams as feed stock for the chemical industry.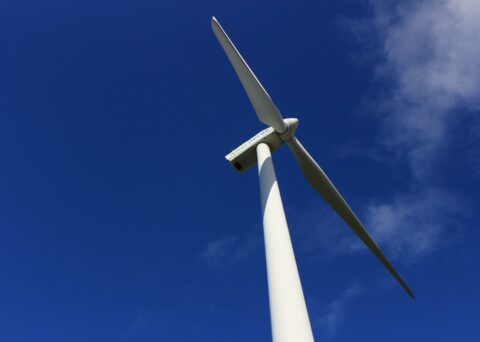 Interested in working with ADPO?